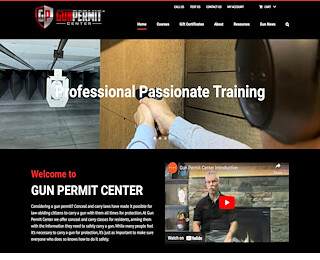 These days, according to the Crime Prevention Research Center, over seventeen million Americans have a conceal and carry permit.  If you live in Minnesota and wish to join these ranks, here's what you need to know:
What are the guidelines to get a conceal and carry permit in Minnesota (MN)? 
You must be at least 21 years old 
You must submit a completed application
You must be able to obtain a permit under the law 
You must not be under a gang investigation 
You must be a resident of the county in which you are applying 
You must provide a certificate of authorized certified training 
Who is the issuing authority? 
The local sheriff issues your concealed carry permit. Minnesota is a "Shall Issue" state, meaning that if the criteria for a permit is met, the sheriff shall issue a permit.  New and Renewed permits are valid for five years. The county sheriff has 30 days to approve or deny your application, after which it will be checked through NICS.
 The fee for your concealed carry permit in MN is determined by the local sheriff but the cost will not be more than $100.  Renewals are not to exceed $75, with an extra $10 for those applying to renew within 30 days after their permit expires. 
Why take a class through the Gun Permit Center (GPC)? 
At GPC, we have options available ranging from 100% in-class teaching to a hybrid online/range class.  Once you have obtained your conceal carry permit, we offer more advanced classes to add to your knowledge and keep you sharp in case you ever need to use your training. It is paramount that you are familiar and comfortable with your firearm if you ever need to use it in a self-defense situation. 
Do I need to provide my own handgun and ammunition for the conceal and carry class?
No.  GPC will furnish to a loaner handgun with ammo that you may use, or you may bring your own weapon to class.  If you are bringing your own firearm, also bring 25 rounds of ammunition.
What else do you offer?
 By partnering with Sheepdog Church Security, we offer a training course just for your church. Places of worship have come under attack too many times in the past and this course allows you to learn how to keep your sanctuary safe and comfortable for you and your fellow worshipers.
We also offer private individual training for all your needs. Maybe you are a beginner and want to get more accustomed to handling and shooting your weapon. You might want to learn how to shoot from different position, shoot faster, better and with more control. We can individualize your training to your specifications.  
We offer private groups of 5 or more too. This is a real fun way to get your concealed carry permit in Minnesota. You and your family or friends can all get together, learn and shoot. 
Obtaining a conceal and carry permit in MN with GPC is easy, straightforward, and fun.  Give us a call today to get started.
Conceal And Carry Mn